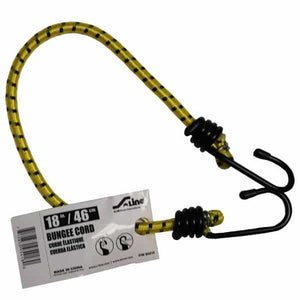 Ancra Cargo 18" Standard Rubber Bungee Cord
Built with reliability and durability in mind, Ancra's 18-in. standard bungee cord is a great solution for general and light-duty tie-down tasks. With stranded latex rubber construction and an 8mm.-9mm. diameter, the standard bungee cord retains its stretch and recovery properties even after heavy use.
Coated steel wire basket hooks offer strength when connecting the cord to anchor points while rubber tip guards help to prevent the hooks from tearing or scratching the attached material. Jacketed with polyester yarn, the bungee cord also features a yellow/black "fleck" design for easy length identification. The 18-in. standard bungee cord is sold as eaches in bags of 10 or masters of 50, and each cord comes individually UPC coded for retail sale.
---
We Also Recommend