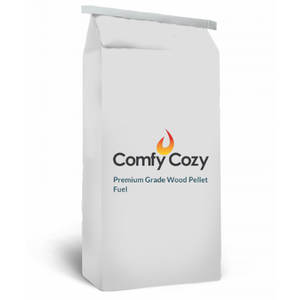 Comfy Cozy Wood Pellets
Marwood's Comfy Cozy is a premium quality pellet fuel which exceed the Pellet Fuel Institute (PFI) premium standards. Competitively priced, Comfy Cozy consistently receives high praise from our many customers.
Wood pellets are not all created equal. Marwood strives for consistent high quality which results in pellets that burn hotter with lower ash content.
The reason for the consistent high quality? Unlike almost all of our competitors, we use our own wood fiber from our other operations. By controlling the quality and moisture content of the wood fiber, and using the most advanced manufacturing technology in the industry, we're able to consistently deliver a high quality product. Improve the performance of your pellet stove with Comfy Cozy Wood Pellets.
Comfy Cozy offers the following benefits:
By producing all our own wood fibre used in the manufacturing of Comfy Cozy Premium Wood Pellets, consistency is maintained throughout the year's production.
State of the art manufacturing equipment and careful handling reduce fines to a minimum.
Continuous testing in our on-site laboratory ensures that pellet density, burning and ash content meet or exceeds the standards set by the Wood Pellet Institute.
Random samples of Comfy Cozy are tested regularly by independent labs to confirm our own test findings. Your assurance that we take quality assurance seriously.
Superior customer service including direct technical help via our toll free service.
Premium softwood pellet meeting or exceeding the Pellet Fuel Institute Standards. Below are average values from the latest third party testing:
Heating Value:

 

8500 BTU/lb – Our high BTU value results in more heat delivered to your home.
Moisture Content:

 

Less than 8% – Each pellet is made of dried, compressed sawdust, resulting in a consistent burning pellet.
Ash Content:

 

Less than 1% – With decreased ash content Comfy Cozy pellets help reduce stove cleaning and maintenance frequency.
Fines:

 

Less than 0.55 – Fewer fines means you are getting the most heating value from the product you bought.
Bulk Density:

 

40-46lbs/ft3 – Natural compressed softwood allows for a clean burning pellet with a high BTU value.
Water Soluble Chlorides and Sodium:

 

Less than 330PPM – Our pellets are 100% natural wood, with no chemicals or additives.
Dimensions:

 

Length – Less than 1% greater than 1.5″ (38mm) and 6.35mm to 7.25mm diameter – Each pellet is uniform in size and leads to a consistency in auger feed and burn.
Durability Index:

 

Greater than 97.5% – Trust that each bag of Comfy Cozy pellets are strong and durable and will make the journey from store to hopper as a pellet.
---
We Also Recommend