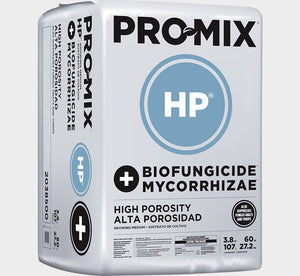 Pro-Mix Hp Biofungicide + Mycorrhizae
PRO-MIX HP provides a great growing environment to growers looking for a significant drainage capacity, increased air porosity and lower water retention. The added benefit of fibrous peat moss and coarse perlite makes this formulation ideal for growers who require a superior-quality product adapted to their needs for watering flexibility and crop seasonality.
Crops
Annuals
Foliage plants
Potted flowering plants
Greenhouse vegetables
Young plant propagation
Vegetable transplants
Medicinal Plants
Berries
Benefits
Dries out more frequently than general purpose, peat-based mixes
Well suited for low-light growing conditions and high humidity
More difficult to overwater crops
Reduces incidence of water related problems (root diseases, algae and fungus gnats)
Holds less water for improved leaching of fertilizer salts during crop cycle
Certifications
Premier Tech's peat moss comes from bogs that are certified under the Veriflora Program. This certification ensures the application of good management principles in all aspects of sustainable development. The criteria include environmental assessment, social engagement, and product quality.
Active Ingredients
BIOFUNGICIDE* + MYCORRHIZAE
*BIOFUNGICIDE is only available in the USA
Protects & enhances plant growth
Most advanced technologies in active ingredients
Saves time & money
---
We Also Recommend