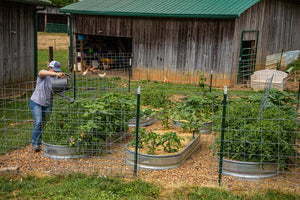 Tarter 8' Oval Raised Bed Planter
Tarter's 8' Oval Raised Bed Planter makes gardening simple and easy.
These bottomless 1' tall by 3' wide galvanized steel planters work to create a garden just about anywhere. No tools or assembly are required. Just plant, sit back, and watch your garden grow.
These planters have a smooth rolled top design which means added comfort and safety while sitting or kneeling to plant.
You can grow more in our Raised Bed Planters because vegetables can be planted closer together than in a traditional garden. They're perfect for ornamentals, edibles, and just about anything else you'd like to grow.
---
We Also Recommend